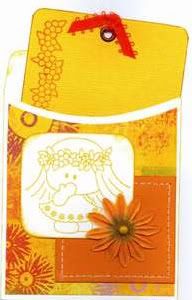 Here's a simple project that turned out great… a library pocket. Of course, I used none other than my little garden girl. I know, I'm obsessed with this stamp set.
Anyway, I adhered fitted patterned paper to the front along with the little girl, a piece of square cardstock, a flower and a brad.  For a cute li'l insert, I took a piece of cardstock, stamped some flowers, added an eyelet, rounded the corners and added some ribbon.
I have no idea what I'm going to do with it. I had no plan when I started and I have no use for it. Well, no use other than staring at my talent for papercrafting. At some point, all papercrafters make things that have no purpose other than "just to do it." Oh yeah… on the orange cardstock… it's just faux stiching. I used a paper piercer and lined with white pen.  Ciao!