I am so excited with the outcome of this mini chipboard album.  I bought this little book for only $1.95 from TAC and, frankly, had no idea what to do with it.  (I often buy things before I have a plan!)  Recently, I received some paints from Making Memories as a gift.  I decided that I thought it might be neat to "paint" it and make a "spring time" book.  So, I painted the entire book (front, back, binding and inside) and this is what I came up with.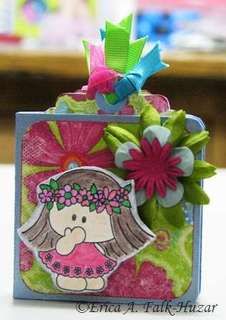 I was so excited to use one of our newer paper lines, as it is so lively, and thought it was perfect for the beautiful weather here in Wisconsin.  I also used one of my favorite stamp sets.  The little girl is absolutely adorable.  I'm in a "cute" stamp phase.  Anyway, I stamped the little girl on a seperate piece of chipboard, cut around it and made it stand out with pop dots.  The inside pages are just as beautiful!
I cut out 3 3/4" squares of different papers in the Mia's Cottage collection, rounded the corners with a corner rounder, and inked the edges.  I used five of the die-cut tags that are included with the paper collection.  On the tags that stood above the book, I added ribbon.  With glue dots, I added small flowers with mini brads.  For journaling boxes, I used the stamp set Just a Note (which you can receive as a hostess gift when hosting a FUNshop).